Understanding makes the difference
In order to improve the production process and to get the best efficiency out of milling machines, a user needs detailed information at hand of all the operations the machine has carried out. Detailed information includes actual working hours, interruptions/breakdowns, and the machine's most important life events. Having this information available, the user can fully identify problems that may occur and carefully plan the most appropriate interventions to improve the machine efficiency.
To achieve this target and looking at the client's requests, Fidia decided to develop two advanced modules: the Machine Monitoring System and the Monitoring system on WEB.
The former system identifies all the different machine and CNC activities registering them and then producing visual or printed reports, while the latter system allows the user to check out the machine status with a remote device such as a phone, a tablet or a PC. Working jointly, the modules allow for close workshop monitoring, accurate cost calculations, smooth manufacturing and extremely efficient interventions.
Machine Monitoring System: the workshop under control
This module detects the following machine activities:
milling
waiting
fault
machine off
For each activity, the module records the timing. In addition, the module detects and records the most important events while the machine is running:
spindle start up/stop
refrigerating start up/stop
tool change
hand-wheel inputs (override) for spindle rotation and speed
feed hold
machine or control error
Reported events may be customized.
Timings and events can be reported by period, by machining or by project, on Excel or HTML files, according to the operator's requirements. Data related to a single machine can be displayed on the CNC screen, while one or several PCs within the company can group and display data related to all connected machines.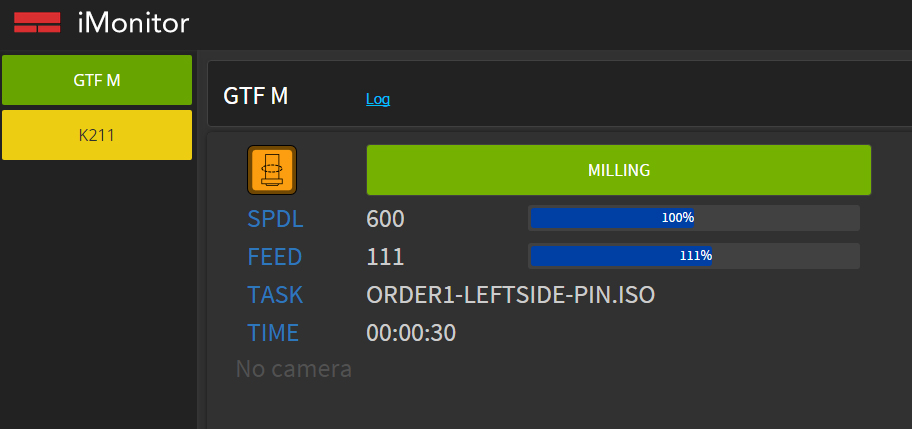 Monitoring System on Web: the workshop at your fingertips
This module allows displaying the machine status on a remote device such as a phone, a tablet, or a PC. The machine statuses include:
running activity, milling, waiting time, breakdown or off status
feed rate
spindle rotation speed
the manufacturing or production order and program being executed
machining time
In addition, this module displays a list of the most important events over a period set by the operator. It therefore results very useful for those who are responsible to constantly check the machines. Wherever they are, a functioning smart-phone is all they would need in order to get the full picture about the machine operations in the workshop and to take necessary actions.