Made of stiff epoxy concrete columns to allow the best vibration dampening effect, these versions of GTF family have the greatest level of modularity, thanks also to the automatic heads changing system. Starting from the smallest 2+2 columns configuration, the same design can be extended to any X axis length just by adding columns.
Linear axes travel
X
Y
Z
(mm)
5200 (205")
7600 (299")
10000 (394")
12400 (488")
19600 (772")
2200 (87")
3500 (138")
4000 (157")
5000 (197")
1000 (39") to 2500 (99")
Axes speed
(m/min)
Standard 30 m/min (optional X, Y: 50 m/min - Z: 40 m/min)
Milling Spindles
Wide selection of Bi-rotary continuous or indexed
Load capacity
9000 Kg/m² (1843 lbs/sqft)
Speed (1/min)
Until 30000
Torque (Nm)
Up to 1000
The GTF/R integrates a 600 x 600 mm ram.
Consequently, this version offers a wide range of heads to choose from:
M5S with Z strokes from 1000 up to 2500 mm
M5S2 with Z strokes from 1000 up to 2500 mm
M5D with Z stokes from 1000 up to 2500 mm
M5E with Z strokes from 1000 up to 2500 mm
M5H with strokes up to 2000 mm
The axes kinematic chains may vary in order to achieve the highest working speed and acceleration. A tandem rack & pinion system drives X and Y axes, while Z axis is driven by rack & pinion, according to the stroke length and application.
Milling heads Fidia on GTF/R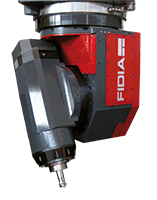 M5E - Orthogonal bi-rotary head, with interchangeable spindle, 24000-15000 1/min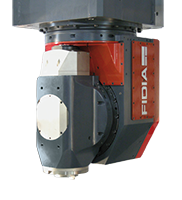 M5H - High power and torque head, with mechanical transmission and accessory change system, 1100Nm, 34kW