The G996 is the result of Fidia's long experience in the field of high performance milling. After years spent satisfying the need for improvement in the quality and accuracy of complex machining, since the launching onto the market of machine tools designed for finishing, Fidia has responded to a new challenge in which the rationalization of the production cycle has become an absolute priority.
Combining high dynamics with stability, stock removal with high precision finishing and modular design: the G996 has achieved a new level of performance. The result is a system offering various milling equipment and different worktable combinations able to satisfy most machining requirements with 3 and 5 continuous or indexed axes. Sectors in which the G996 can find application include all those where high precision and excellent stock removal are required, from the moulds and dies sector to general machining and the aeronautical industry.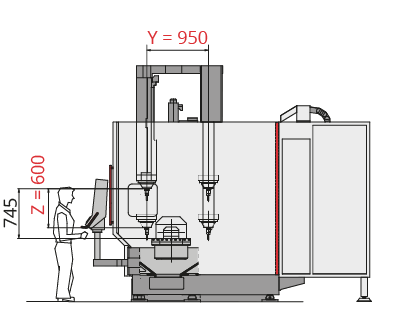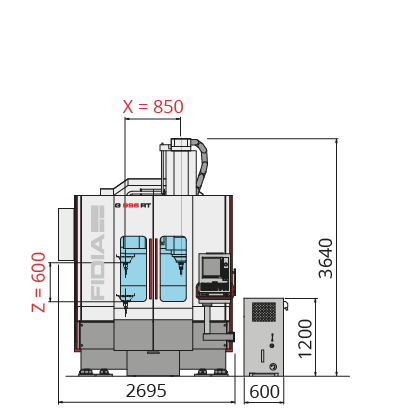 Machine tool structure
The large cast iron bed provides a stable support for the moving parts, while the open front ensures wide visibility. The moving components, also made of cast iron, have been designed for high acceleration with no dynamic deformation. At the same time, they ensure the damping capacity required in order to take full advantage of the high spindle torque. The use of spheroidal graphite cast iron and a system of guides with 6 support points for each axis has made this difficult compromise possible.
No Foundation
Its self-supporting structure allows installing the machine directly on a standard industrial floor.
Dynamics and thermal stability control
The kinematics chain is based on rotating nut and fixed ball screw technology on all linear axes. This solution has numerous advantages:
larger diameter ball screws;
reduction of moment of inertia;
extreme rigidity in motion transmission;
heat control with coolant flow through hollow ball screws.
All the parts generating heat, such as axis motors, nut supports, electrospindles are monitored and cooled by means of a central conditioning system. Furthermore, dedicated sensors measure the ambient and structural temperatures providing an overall monitoring picture. In this way, maximum accuracy is achieved even with lengthy machining cycles requiring numerous re-machining operations and tool changes.
Configurability
The G996 3-axis standard configuration is equipped with a highspeed spindle that is able to deliver High Performance milling, boring, drilling and tapping. As an option, the vertical axis can be fitted with a robust head with two indexed axes (BSH version) or a continuous head with 5 axes (M5A version).
The fixed worktable can be replaced by different roto-tilting (RT version) tables (trunnion type), each being particularly well dimensioned for the machining of complex geometrical forms, that are equipped with torque motors bringing the technical characteristics of these solutions to the highest levels of performance. The maximum benefits deriving from the increased capabilities of programming systems on 5 continuous axes are also guaranteed. Interfacing with standardized and modular automatic pallet systems, such as WPM and MP (Multi pallet), reduces down time and allows for full automation of the production cycle.
Tool change and automatic presetting
24 to 84 position tool magazine is located in the machine bed. The magazine has a large access cover and is suitably protected from dust, fluids and swarf. The tool measuring probe, which uses a laser device mounted in the machine bed, checks the length, diameter and shape while the tool rotates at working speed in order to reduce machining errors. Also available, measure and verification of special tools:
multiple cutting edge;
angular heads;
advanced ID Chips management
TECHNICAL DATA
Linear axis travel
X
850 mm
Y
950 mm
Z
600 mm
Linear axis feed
X Y Z
45 m/min (1772 ipm)
Positioning precision
X Y Z
± 0.003 mm (± 0.00012")
Maximum acceleration
10 m/s2 (394 inches/s2
Tool magazine
Positions
24 - 42 - 84
Standard machine tool weight
17000 kg (37478 lbs)
MILLING HEADS
Electrospindle 3 axes
V / RT version
Maximum power (S6)
30 kW
Maximum torque (S6)
105 Nm
Max. spindle rotation speed
24000 1/min
Toolholder
HSK63A
Bi-rotary heads
indexed BSH
continuous M5A
Work area (X,Y)
970 x 1070 mm
(38" x 42")
850 x 950 mm
(33" x 37")
B axis travel
-102°/+24°
±110°
B axis pitch
3°
continuous
C axis travel
-177°/+180°
± 360,1°
C axis pitch
3°
continuous
Max. spindle rotation speed
30000 1/min
32000 1/min
Maximum power (S6)
22 kW
7,5 kW
Toolholder
HSK50E
HSK40E
STANDARD TABLE
Dimensions
1200 x 850 mm (47" x 33")
Load capacity
2000 kg (4409 lbs)
No. and dimensions of T slots
n° 4+1(H7)x18 mm (0.71") pitch 160 mm (6")
RT TABLE
L-900
L-1000
Platter dimensions
600 x 600 mm
(24" x 24")
Ø 800 mm
(Ø 32")
Max. rotating diameter (swing)
960 mm (38")
1090 mm
A axis
- stroke
- speed
- acceleration
±120°
50 1/min
2000 °/s2
± 125°
50 1/min
2000 °/s2
C axis
- stroke
- speed
- acceleration
rollover
100 1/min
2000 °/s2
Load capacity
850 kg (1874 lbs)
1200 kg (2645.5 lbs)