Counting hundreds of satisfied customers world wide, the D218, D318 and D418 models of Fidia 5 axis high-speed milling centres have been recently renewed to keep granting the best return on investment upon machine size.
The "D" family offers nowadays an enhanced cinematic delivering up to 22 m/min cutting speed; the new Z axis counter-balance system, together with active cooling system aboard nuts and Y axis motor, grants superior accuracy.
Strongly reliable as usual, the machine structure, system layout and body design delivers high-level dynamic performance, while the proprietary 5 axes continue or 3+2 indexed heads and first class spindles confirms its versatility and its effectiveness.
Forward-thinking solutions for demanding applications
Fidia has been a firm believer in high speed milling and has dedicated years of continuous research to the development of machines that have successfully operated worldwide since the early 90s. Continued market growth confirms the validity of the choices made by Fidia.
Whether it's a 5 axes machining or a 3+2 indexed axes operation, high speed means high cutting speeds and fast spindle rotation. The resulting high axis feeds can only be maintained by specially designed machines in order to guarantee precision and surface quality simultaneously. An initial result is a reduction in machining and manual finishing times. But high speed also means being able to machine very hard materials and thus simplify production cycles avoiding those time consuming mid operations imposed by conventional machining.
Designed for high speed machining, the D218, D318 and D418 applies for:
finishing of plastics injection moulds and die-casting dies
production of aeronautic structural parts in aluminum
machining of graphite electrodes and resin models
accurate machining of part with complex geometries such tyres moulds, jet engine disk slots, …
The technical solutions
The criteria that have determined the choice of a fixed bed structure are:
constancy of the forces at play, that allows the machine to exploit the full potential of motors and drives indipendently of the work-piece weight
maximum accessibility
ample scope for customization
containment of overall machine tool dimensions
The "high bed" solution allows for a reduction in moving masses, particularly of the X axis, and results in superior dynamic performance.
Milling heads
The most suitable configuration for specific requirements can be selected from the different versions available:
indexed bi-rotary head with high speed spindle and HSK50E toolholder;
compact continuous bi-rotary head for high speed spindles and HSK40E toolholders.
The full 5 axes continuous head hosts ceramic ball bearings and liquid cooled electro-spindle up to 32,000 rpm. Privileged applications are complete machining of light materials, and finishing operations on steel. The 3+2 indexed head offers 22kW high torque electro-spindle, allowing higher removal cutting on steel and other iron-based materials. Spray-mist tool lubrication is provided standard.
Components
The linear axis slides have roller bearings to allow for high feeds and to reduce friction. Friction can cause errors at inversion of movement, as well as overheating of the machine structures. The axis drives use digital technology with the following advantages:
optimization of the dynamic behaviour of the machine tool;
improvement in resolution and machining accuracy.
The linear axis transducers are the direct type in order to guarantee maximum accuracy and maintain this accuracy over time. Axis are driven by re-circulating ball screws and brushless motors. Technology for the vectorial control used for the spindle drives gives an excellent performance even at low rotations.
Automatic tool change
The automatic tool changer is incorporated in the machine tool bed and is protected from swarf and coolant. Tools can be loaded in complete safety from the left part of the machine in masked time.
Tool presetting
Automatic presetting of tool length on the machine simplifies tooling procedures for new machining operations or when replacing worn tools. Indispensable for unmanned operations, tool presetting is available either in a digital probe version or with a focused laser probe. In addition to verifying tool length, the focused laser system checks tool diameter and shape.
Dust suction unit
Essential when machining graphite or resins, the dust suction unit consists of a high capacity suction device mounted externally to the machine. The suction device is equipped with self-cleaning filters, offering a high degree of filtration, that are able to operate in the presence of explosive dust. The suction device is connected by means of special tubing to the manifold inserted in the basement of the machine. The machine tool structure, with the slides located far away from the work area and the total absence of moving parts below the work surface, make the D218 and D318 particularly suitable for this application.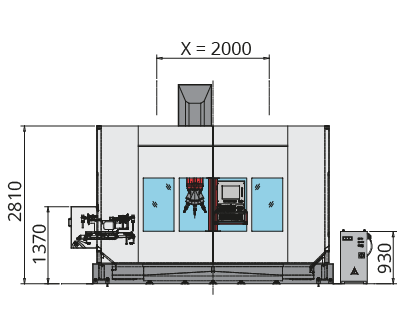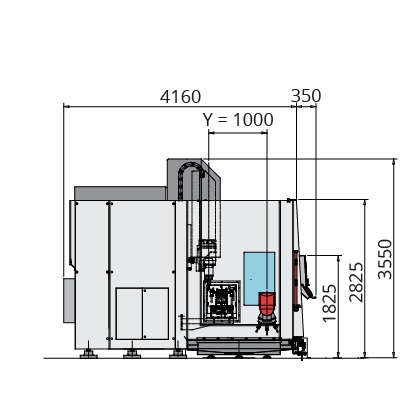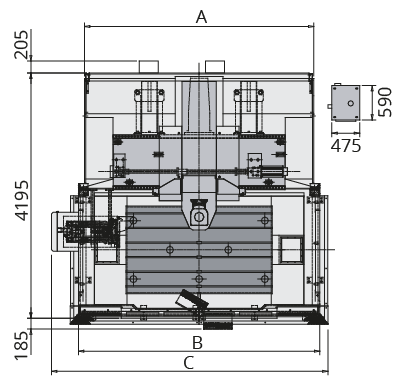 D218
D318
D418
Linear axis travel
X
2000 mm (78")
3000 mm (118")
4150 mm (163")
Y
1000 mm (39")
Z
800 mm (31")
Linear axis feed
X
22 m/min (866 ipm)
22 m/min (866 ipm)
22 m/min (866 ipm)
X Y
22 m/min (866 ipm)
Tool magazine
20 positions
Main options
swarf conveyor
suction system for graphite dust
digitizing
ViMill®
3D simulator with Virtual Look Ahead
Work table
Length
2500 mm (98")
3500 mm (137)"
4500 mm (177")
Width
1500 mm (59")
T slots
n° 6 pitch 250 mm (9.8")
Max load
10000 kg (22046 lbs)
14000 kg (30864 lbs)
18000 kg (39683 lbs)