From their attention to the market and a capacity for innovation shared by Novomeccanica and Fidia, a very ambitious project took shape: building an extremely flexible machine tool, able to perform milling and turning operations on various materials, from aluminium to steel, on large scale components and with extremely high precision. To meet the various necessary requirements, Fidia proposed a Gantry machine from the GTF series with a comprehensive configuration, incorporating a large rotary table, that can be used for milling and turning, and an automatic system for changing the spindle. Recently installed, the machine tool has given rise to a new and rewarding partnership.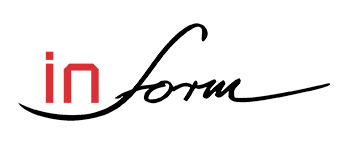 Fidia GTF/R

E

, a partnership enhancing solution

Having had a close client-supplier relationship for some time now, Novomeccanica and Fidia are looking further ahead: identifying new development opportunities building on their respective strengths. Attention to the market and a capacity for innovation, shared by both companies, has transformed their relationship, inverting their roles and giving rise to a partnership based on an extremely interesting project. But let's step back to have a better understanding of the numerous factors behind their successful collaboration. We asked Patrizia Novo, second generation of the Bruino company, to describe the most significant stages along this journey.
Background
In 1978, my father, Lorenzo Novo, started his own business with a milling machine, lathe and surface grinder in a garage in Rivalta, leaving his job as a skilled shop foreman at Bertolamet behind him. He set up a small machining firm, specializing in the 80's in the production of industrial automation components and, in particular, assemblies for gantries and conveyors for robot rotation arms. Ten years later, our Company became known for tooling and large scale components for the machine tool, automotive, aeronautics and aerospace, nautical and electrical sectors. In our workshop, we perform machining and boring on alloy steels (70%), aluminium (20%), cast iron, invar, inconel and titanium. I started at Novomeccanica as a typist but, after my father passed away, with my mother Maria Porello tenacity and my brother Davide we dedicated ourselves entirely to the technological development of the company. Today, Novomeccanica has been awarded the specific ISO UNI EN 91000 certification for the aeronautics sector and has forty or so major clients. With 23 employees we have a turnover of 5.5 million Euro and are considered one of the leading companies in the industrial fabric of Piedmont.
Ms Novo, can you briefly describe your reference market?
We started working mostly in automotive sector, but then we diversified our fields of activity, extending to the aerospace and machine tool sectors. We are commissioned to undertake jobs with a high technological input or which require ongoing highly innovative skills.
In the general machining sector, we are specialized and very competitive in the machining of large cast or electrically-welded components. We undertake the high precision machining of large machine tool components such as beds, benches, cross-beams, cross-slides and quills. In this particular sector, Fidia has been our client for many years.
Novomeccanica and Fidia. How did your collaboration come about?
We started working together in 2014, but have always known Fidia. My father always spoke of Fidia as the undisputed leader in the moulds and dies sector. In 2008, at a Fidia 'open house', we had admired the large Gantry machines with polymer concrete structures that were particularly suited to our requirements as they combined fast travel with high precision. Then our collaboration began when we became suppliers for beds and cross-beams. Since Fidia is recognized as a Company that takes quality very seriously, being able to count it among our clients helps us present ourselves with the necessary credibility in demanding markets such as the aeronautics industry where extreme accuracy is required. As clients, we appreciate the versatility of the Fidia NC when integrated with high speed machine tools – the optimum solution for superfine finishing.
We started working mostly in automotive sector, but then we diversified our fields of activity, extending to the aerospace and machine tool sectors.
Let's move on to look at the GTF/R in detail. What were your requirements?
Owing to our optimum reputation in the aerospace market, we are entrusted with complex machining jobs by clients such as Thales Alenia. We made the manifolds and connecting sections for the radiators of the Orion space module; in the case of the Cygnus PCM (Pressurized Cargo Module), built to transport materials to the International Space Station, the order was for the construction of large special alloy cylinders.
Working with such large components, a supplier had to perform an initial turning operation which was then followed by further machining on three separate machine tools in our workshop. Now, with the Fidia GTF/R we can carry out all the machining operations in our own workshop and all on the same machine, and so with just one positioning. In this way, we achieve significant advantages in terms of time, cost and accuracy enabling us to successfully meet the criteria for excellence in the supply chain in line with the exacting standards established by the sector.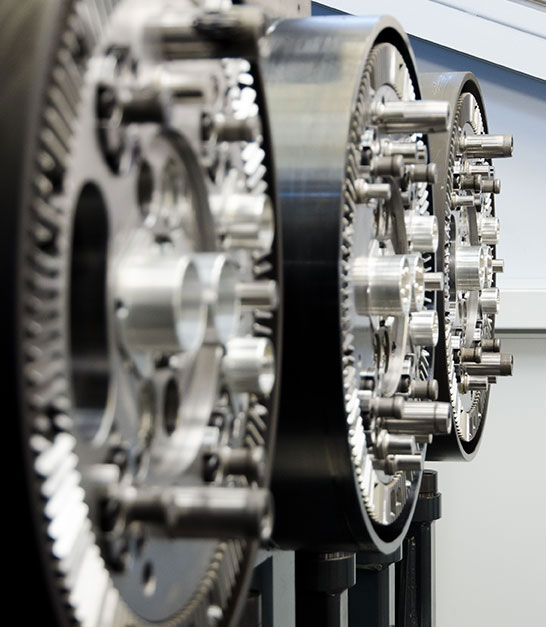 Now, with the Fidia GTF/R, we can carry out all the machining operations on the same machine, and so with just one positioning, achieving significant advantages in terms of time, cost and accuracy.
What were the main selection criteria?
Fidia is one of the few companies that is able to supply a complete package: machine tool, control electronics and process software. Fidia also offers ample possibilities for programming at the machine tool, as well as an exclusive integrated anti-collision system, Vi-Mill, that is ideal for protecting against any accidental impact the costly components entrusted to us by our Clients. Fidia Field Service is attentive, competent and prompt. Initially, we contacted Fidia to see if, among their machine tools, there was one capable of fulfilling the requirements of our Clients. We had in mind a model that, with just one positioning, was able to perform milling, turning and finishing operations. Not only this, but right from our first meetings with the Fidia engineers, we asked them how we could make use of the new machine once we had completed the machining jobs for the Aerospace sector. In other words, we needed an extremely versatile solution that was able to mill and turn large light alloy aerospace components as well as machining large scale steel or cast iron components.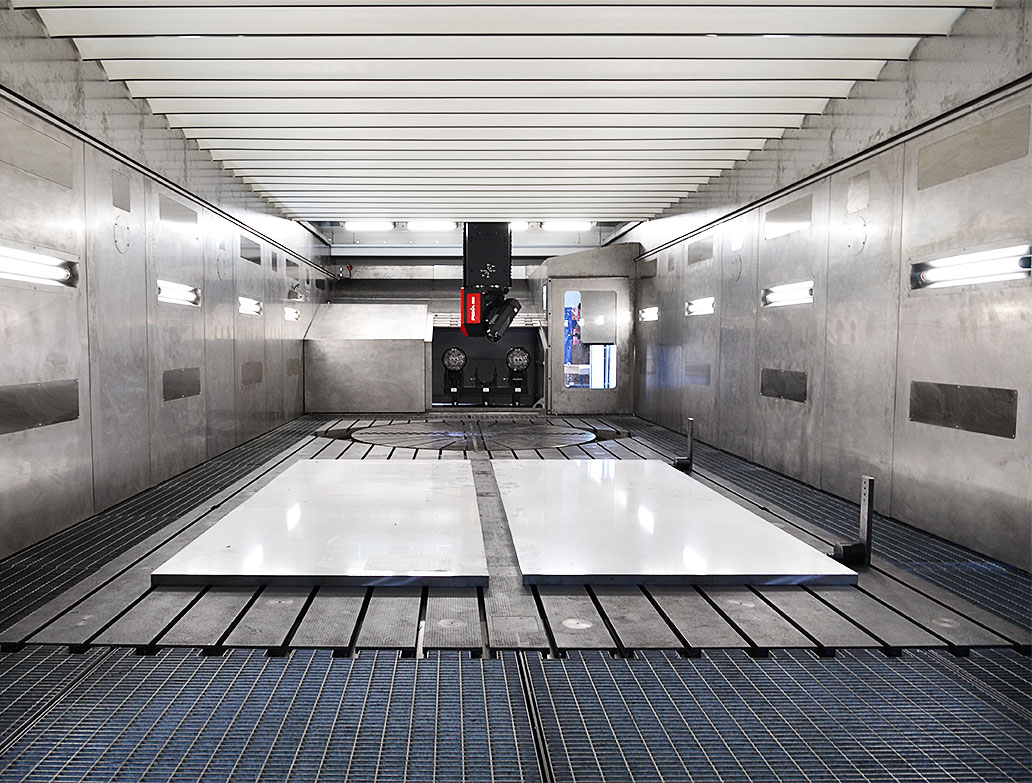 A very complex and fascinating case. Your Fidia GTF/R was the first High Speed machine tool of such size and performance that was also suitable for general machining in use in Italy...
We are extremely satisfied. The Fidia engineers reassured us as regards our requirements; Fidia had already supplied several large machine tools in the United States and China, that were used for various types of machining both in the aeronautics and large scale tooling sectors. Our concept was that the machine should be able to rotate the part, mill with a high stock removal rate, perform turning and be equipped with high speed spindles for aluminium alloys. Choosing from the numerous options available for the GTF series machines, and together with the Fidia technicians, we specified an extremely flexible configuration. In particular, it had a rotary table that was able to orientate the part in the ideal position for milling AND execute turning operations. By combining the available options from the wide range of Fidia milling heads, we found an ideal configuration with a system for changing the spindle enabling us to choose the most suitable spindle for the material to be machined.
This was a significant investment, but we are certain it will be a great opportunity to grow business volumes and also enter new sectors. Thanks to the Fidia GTF/R, for general machining jobs that require ever greater precision, we will have improved tolerances with a notable reduction in milling times. Previously, the market allowed a machining operation to be resumed in the event of any problems. Now, this is no longer permissible. In fact, our processes are subject to strict controls and must guarantee an accuracy of a few hundredths of a millimetre, even on large scale components with a length of up to 22 metres and weighing over 20 tons. With the new Fidia GTF/R, we have the right machine in our workshop to achieve these results and open up Novomeccanica to the prototypes market!
….we needed an extremely versatile solution that was able to mill and turn large light alloy aerospace components as well as machining large scale steel or cast iron components.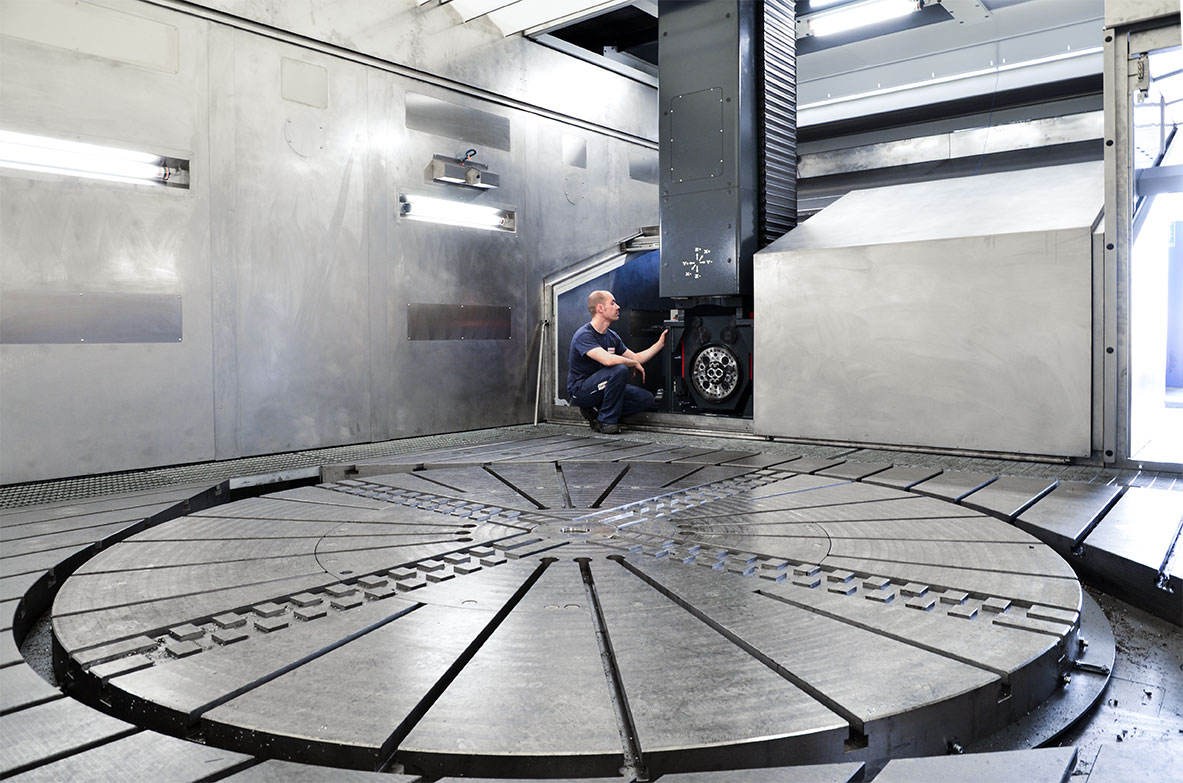 Installation of the machine was completed in June, what are your impressions after the first few weeks?
We were immediately impressed by the speed of the machining, especially in relation to the large size of the machine. In fact, we had been under the impression that a High Speed machine tool had to be small like those we had already come across. Then when Mr Morfino arrived with all the drawings of the milling heads and quill (RAM) in 1/1 scale – we're talking 5 metres of drawings – we realized the machine would be truly huge. Its weight and dimensions required special foundations, also for the rotary table. The various works in order to prepare the foundations were really quite an undertaking.
A colour note: all our machines were the traditional green colour, but now I'm pleased to admit Mr Morfino was right when he insisted on the classic Fidia colours; seeing the GTF/R in our workshop with its grey and light grey tones, I have definitely changed my mind.
What do you expect of this significant technological investment?
We consider it to be a truly important step forwards. We are expecting positive outcomes in terms of quality and business volumes that will enable us to amortize our investment within the planned timescale. In general, we expect to strengthen our position in applications requiring advanced technologies. In particular, we are pursuing the large aeronautical components sector, but we are also looking at other fields such as cryogenics, where we have already worked with Cryotec.
In your opinion, what are the fundamental characteristics of a partnership?
For Novomeccanica, this co-engineering project will consolidate our reputation for quality and reliability with a sizeable increase in turnover; and Fidia will be able to count on the extremely accurate machining of parts for its own machine tools executed by one of its ultra-modern Fidia machines. Teamwork and attention to detail determined the various aspects of the new machine tool, starting with the decision, discussed at length directly with Mr Morfino, to opt for a head equipped with electrospindles rather than the more traditional mechanical head.
I have very much appreciated Mr Morfino's personal involvement in technical matters. As well as having a great deal of expertise, he is a really approachable and easygoing person. Working with Mr Morfino and the Fidia technicians, we really appreciated the relationship we had built up: loyalty and a flexible attitude are characteristics that benefit the productivity of both companies. And now, with good reason, we can truly call ourselves partners!
A sincere
'thank you'
I would like to thank with much affection and gratitude Ms Patrizia Novo and all the wonderful team at Novomeccanica for the trust they have placed in us and their endless patience throughout the various stages of this complex and fascinating project.
Starting with the complex foundation, the project extended to the safety management of overhead cranes that could not pass if the machine tool RAM exceeded a certain height.
At FIDIA, we have made a bit of a habit of undertaking technologically difficult projects, and perhaps this is one of the reasons why we are 'still in business' in an extremely competitive sector dominated above all by Germany and Japan.
But with the Novomeccanica project, we accepted a double challenge: building a high speed machine tool that is able to perform the sophisticated machining required for aerospace applications, as well as executing general machining operations with high removal rates. And all this combined with the capability to carry out large diameter turning.
In addition, we were very happy and grateful for the extraordinary opportunity that Novomeccanica gave us: namely, being able to produce on one of our machines all the large high precision mechanical components for our future FIDIA machine tools.
Ms Novo was a little surprised by my ongoing personal interest in this project, but to be honest I had good reasons for this. Not just this, I had the pleasure of getting to know some wonderful people. And so: my heartfelt thanks.
Giuseppe Morfino