High Speed Milling Systems
With high-speed technology, manual finishing at the end of the milling process is virtually eliminated. More complex forms can be produced with improved quality, while machining times are significantly reduced.
Fidia expanded its manufacturing capacity in this sector of activity thru the acquisition of Meccanica Cortini, Sitra Automazione and Simav. Nowadays, Fidia is listed among the world's leading manufacturers of high speed milling systems.
The Company produces five type of high speed machines : HS664, G996, Serie D, Serie K and the new GTF Gantry line.
Differentiated by size, architecture, and application, every Fidia milling system is located at the top end of the high-speed market in terms of performance.
Consequently, a Fidia machine offers radical advantages compared to traditional milling machines in terms of removed material ratio. Even better, a Fidia machine overcomes the traditional cutting limitations on tough materials as austenitic alloys and hardened steel up to 70 HRC.
CAM
CAM (Computer Aided Manufacturing) is a software package for the automatic generation of machine tool control programs. Starting from mathematical data, the software generates the subsequent phases of the milling process. The HI-MILL® CAM developed by Fidia represents an increasingly important business segment.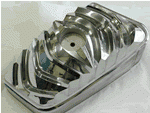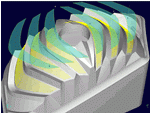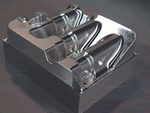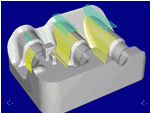 From numerical control to high speed
Fidia was founded in 1974 to design and build sophisticated numerical controls: an advanced technological solution for the machining of complex forms for the moulds and dies industry.
By progressively extending its know-how in this business segment, and through constant product innovation, Fidia anticipated market requirements. In the 1980s, a new series of numerical controls based on the use of microprocessors was designed; high-speed milling systems were introduced in 1990 with the launching of the first DIGIT 165; and the mid-1990s saw the design and production of the Company's own CAM software: HI-MILL®.
High-speed milling is an important technological innovation. Extremely complex machining operations can be performed in significantly reduced times compared to traditional milling. High quality performance means Fidia high-speed milling systems are top of the range in their market niche.
Between 1995 and 1998, Fidia introduced the first series of numerical controls equipped with a Windows multitasking operating system, making available a large number of application programs during the machining.
Fidia numerical controls are designed to control milling systems for the machining of complex forms. Accuracy and the quality of the finished product are their most important characteristics.
The software incorporated in the numerical control "reads" the static mathematical data and transforms this data into dynamic electrical data, i.e. into commands for making the tool execute the sequence of movements required in order to produce the desired shape by milling the part.